This post may contain affiliate links. It was last updated on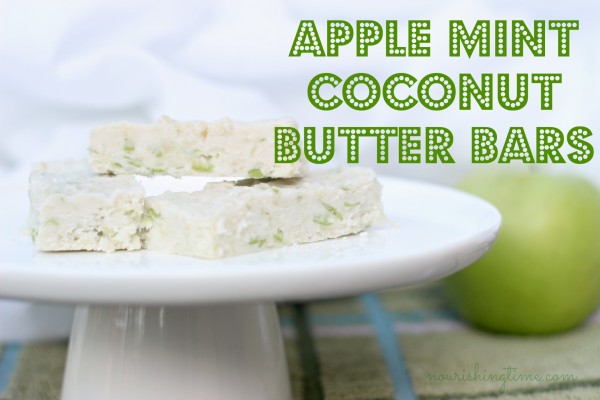 Growing up in the country in Jamaica, we always started our day with some sort of herbal tea. Peppermint was always one of my favorites. To this day, mint reminds me of the early morning excitement we used to have before going to primary school! We also used this tea as an herbal remedy for things such as upset stomach/nausea. While this recipe does not feature fresh mint, it does have fresh Granny Smith apples and it tastes absolutely wonderful. In fact, I'm off to make another batch right now!
Apple Mint Coconut Butter Bars Recipe
Ingredients
4 heaping tablespoons coconut butter
1 tbsp coconut oil
1 tbsp sweet raw honey
5-10 drops peppermint extract
5-10 drops almond extract
1 medium green apple, grated
Directions
1. Mix coconut butter, coconut oil, raw honey, peppermint and almond extracts together well.
2. Grate medium Granny Smith apple and mix in well.
3. Spread in a square baking dish or pie dish evenly and refrigerate for an hour or so.
4. Cut into bars and enjoy!
Also try these coconut love pumpkin pie bars and strawberry coconut butter bars.
Let me know if you enjoyed this recipe by leaving a comment below!
Nourishing Time is a participant in the Amazon Services LLC Associates Program, an affiliate advertising program designed to provide a means for us to earn fees by linking to Amazon.com and affiliated sites. There is no additional cost to you, and I only recommend products I use and love. Thank you for stopping by! See Privacy Policy for more information.