Coconut milk is easy to make at home, but sometimes it is difficult to find good brown coconuts. Some people choose to make coconut milk from dried coconut flakes, but considering it is de-fatted, you don't get all the benefits (or flavor) of full-fat coconut milk.
This post may contain affiliate links.
Related Post: How to Make Coconut Milk At Home
Canned coconut milk is convenient to have on hand, and therefore makes it easier to include this wonderful source of nutrients in your diet on a regular basis. So, what is the best coconut milk brand?
Let's take a look at some of my favorite organic coconut milks. All of the following are BPA-free coconut milk brands!
1. Native Forest Organic Coconut Milk – Simple
The best coconut milk is Native Forest's Organic Coconut Milk Simple. It is made with coconut and water, and does not contain any additives, thickeners or sweeteners. It is the best tasting coconut milk despite the lack of additives. It is an amazing choice for BPA-free coconut milk, and is very rich, creamy and naturally sweet–just as it should be! Buying in the 3L bottle is the best bang for your buck. If it is too much for you to use quickly, freeze portions in glass jars.
2. Nature's Greatest Foods Organic Coconut Milk
Nature's Greatest Foods Coconut Milk is super rich, thick and creamy! It is also in a BPA-free can although the top outside seems to be lined with plastic of some sort. It is also a more grainy coconut milk, and you'll have best results by blending it if you need a more uniform texture. But the taste is divine!
3. Natural Value Organic Coconut Milk
Natural Value Organic Coconut Milk touts to be a full fat coconut milk, but is not as rich and thick as the previous two coconut milks listed. However, it does have great flavor and probably has the best texture of the three.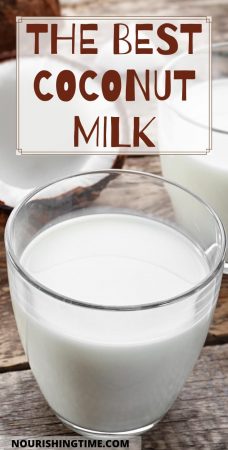 How do you use canned coconut milk?
If you've never used natural coconut milk in a can before, you might be shocked if you just open up the can and see either oil, a bunch of thick cream, or water. However, this is normal, as long as the coconut milk doesn't smell weird or have an off color (such as grey, pink, black).
Before you open a can of coconut milk, you should shake it up. Coconut milk naturally separates since it is not homogenized, and shaking the jar allows it to mix appropriately so it is more consistent and pourable once you open it.
Remove the amount of coconut milk you need, and store the rest in a clean glass jar in the fridge for 2-3 days, or in the freezer for longer if you won't be using coconut milk again soon. Simply defrost and shake when before use next time.
What can you make with coconut milk?
There are many things that you can make with coconut milk! Here is a list of just a few:
fermented coconut milk
coconut milk yogurt
coconut ice cream
smoothies
Jamaican rice and peas
Thai coconut curry
chia pudding
coconut fudge
pina colada
soups with coconut milk base
coconut cream pie
porridge
bread pudding
cakes and cookies
golden milk
You can also substitute coconut milk for almost anything you would make with regular milk. Coconut milk can be used as a liquid substitute for cakes, breads, cookies, pies and more!
In the next few weeks, I plan to share several coconut milk recipes, including how I make coconut milk kefir that's super creamy and delicious!
Frequently Asked Questions (FAQ):
What is the best coconut milk for keto?
The best coconut milk for keto is full fat coconut milk. Coconut milk is naturally full fat, low carb and the sugar content is very low. All the brands listed above are perfect for the keto diet as they are high in fat and don't contain additives!
What is the healthiest coconut milk?
I believe the healthiest coconut milk is homemade, raw coconut milk made from freshly cracked coconuts. It is simple to make, and tastes great if you use good coconuts! If you cannot find fresh coconuts for homemade coconut milk, then using good quality canned coconut milk without guar gum, sweeteners or other additives is perfectly fine!
Where can I buy coconut milk online?
You can purchase coconut milk online at Amazon, Azure Standard, and Walmart. I usually order on Amazon or Azure Standard, depending on availability. Both retailers tend to run out of all the best coconut milk brands from time to time, but they have the best prices.
What is the best coconut milk for toddlers?
Coconut milk is good for toddlers as it is high in many nutrients that they need for proper development. The full fat coconut milk is OK, but may be too rich. You can add some water to thin it down before serving to your toddler. I also prefer to heat canned coconut milk to at least 140* to before using for cold beverages. Boiling coconut milk kills contaminants. For some reason I've found canned coconut milk is prone to spoiling quickly once opened.

You can heat a batch, allow to cool and store in a mason jar in the fridge for around 3 days. You can also blend with dates to sweeten it a bit more. My son loved coconut milk as a toddler, and still loves it now. He mostly has it as coconut milk kefir or yogurt these days.
What is the best coconut milk for whipped cream?
Coconut whipped cream is made from the coconut fat only. This usually requires refrigerating a can of coconut milk and skimming the fat off the top. I much prefer to buy coconut cream to make coconut whipped cream as well as coconut milk ice cream. Let's Do… Organic Heavy Coconut Cream is the best coconut cream I've found! It is perfect for a variety of decadent desserts.
Nourishing Time is a participant in the Amazon Services LLC Associates Program, an affiliate advertising program designed to provide a means for us to earn fees by linking to Amazon.com and affiliated sites. There is no additional cost to you, and I only recommend products I use and love. Thank you for stopping by! See Privacy Policy for more information.