I still remember our dairy-free days like they were yesterday. Although I enjoy raw dairy now, there are some dairy-free recipes that I have grown to love. This yummy, high-fat nondairy raw eggnog recipe is one of them. It's a great way to start your day whether it's the holiday season or not!
This post may contain affiliate links.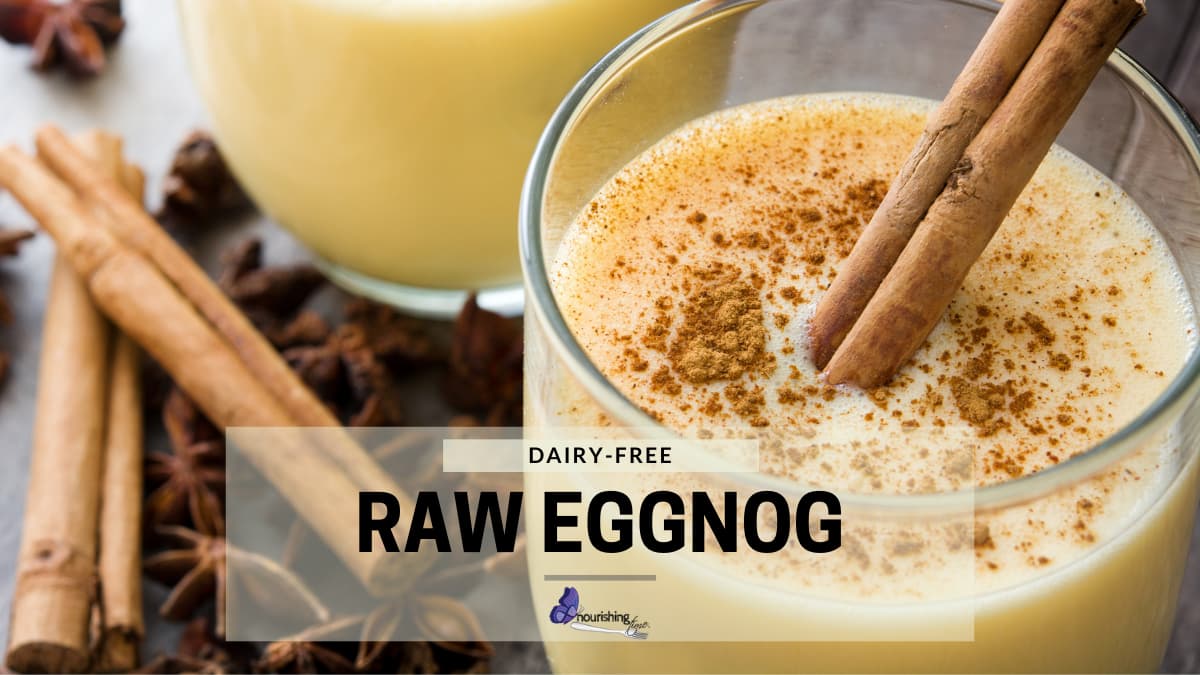 It is very simple to make, too. I find it tastes best with ingredients that are very fresh.
I love to use raw almonds that I soaked overnight, and fresh coconut straight from the shell (the brown coconuts). I blend them up right before making this so I have a super fresh coconut and almond milk eggnog to enjoy.
For straining freshly made nut milk, I LOVE this nut milk bag. Since I make coconut milk all the time, it is essential to have a high quality nut milk bag. I've been through several different brands and have had the unfortunate luck of them bursting on me after just a few uses. This nut milk bag is BIG and STRONG, and will get the job done without disappointing you!
Dairy-Free Raw EggNog Recipe
Ingredients  
1/4

cup

almonds

1/2

cup

fresh coconut meat

(from brown coconut)

1

cup

water

3

egg yolks

1/2

tsp

vanilla extract

Spices to taste (ginger, cloves, cinnamon)

Honey to taste

Salt to soak almonds

Additional water to soak almonds
Instructions 
Soak almonds overnight in 1 cup water with a pinch of sea salt.

In the morning, rinse and blend with 1/2 cup of water.Strain with a fine-mesh strainer, cheese cloth or nut milk bag.

Strain with a fine-mesh strainer, cheese cloth or nut milk bag.

Cut up fresh coconut and blend with 1/2 cup water (add more if your blender requires it, but it will be creamier if you get away with using less water!).

Strain with a fine mesh strainer, cheese cloth or nut milk bag.

Mix 1/2 cup almond milk with 1/2 cup coconut milk. Stir in 3 egg yolks until mixed well.

Add 1/2 tsp vanilla and spices to taste. I love using some fresh grated nutmeg and a pinch of ginger! Other spices such as cinnamon, clove, cardamom, etc. would work great as well.

Stir in a little raw honey to taste and enjoy!
Notes
Coconut milk: If you cannot source fresh coconuts, you can make coconut milk using 1/2 cup warm water and 1/2 cup shredded coconut or coconut flakes. Find my favorite brand of coconut flakes by clicking here.
I hope you enjoy this recipe, and pin it to your dessert board! And you will absolutely love this dairy-free holiday dessert as well!
Let me know what you think of this recipe by leaving a comment below. I personally can't get enough of it this time of year!
Nourishing Time is a participant in the Amazon Services LLC Associates Program, an affiliate advertising program designed to provide a means for us to earn fees by linking to Amazon.com and affiliated sites. There is no additional cost to you, and I only recommend products I use and love. Thank you for stopping by! See Privacy Policy for more information.