I am often in the mood for salsa. It happens randomly and I just have to have a bite. I used to buy salsa in stores, but since discovering how EASY it is to make this probiotic tomato salsa, storebought just doesn't appeal to me anymore.
This post may contain affiliate links.
I also love the benefits of eating it raw and cultured, it is so much healthier and provides our guts with a host of beneficial bacteria.
Quick overview of the nutritional benefits of ingredients featured in this tomato salsa recipe
You will find an abundance of antioxidants in raw tomatoes. These antioxidants are harmed by heat, so keeping them raw means you'll benefit the most. The redder, the better! Tomatoes are good for your skin, preventing cancer, repairing cell damage, regulating blood sugar, lowering blood pressure, improving eyesight, reducing cholesterol, and so much more. Find more benefits by clicking here.
Cilantro and onions have great benefits, too. All the ingredients in salsa do, actually. Studies show that due to their antibacterial properties, eating cilantro leaves actually fights against Salmonella. It works better than the antibiotic gentamicin. It also helps with detoxification. (Source)
Onions are high in sulfur, which aids in detoxification and fighting inflammation. The antibacterial properties of onions are quite noteworthy, as they fight against multiple strains of bacteria. Strep mutans is one strain of bacteria it fights against, commonly known as the bacteria that causes cavities. It also fights against several strains of bacteria that lead to gum disease. Eating onions is the smart thing to do to protect your teeth, bones, skin, nails, gut, brain, cells and more. Many of their benefits are lost when cooked or left to sit out for too long. For this reason, raw onions are a necessity and protecting them from light and oxygen is very important, too. My favorite ways to enjoy raw onions are in salsas, guacamole, and on top of burgers. (Source)
How do you like your salsa? I love mine to be fresh, flavorful, chunky and spicy. I did not turn the heat up all the way for this recipe; however, that can be easily remedied by keeping in some Jalapeno seeds or by adding crushed red pepper or powdered cayenne.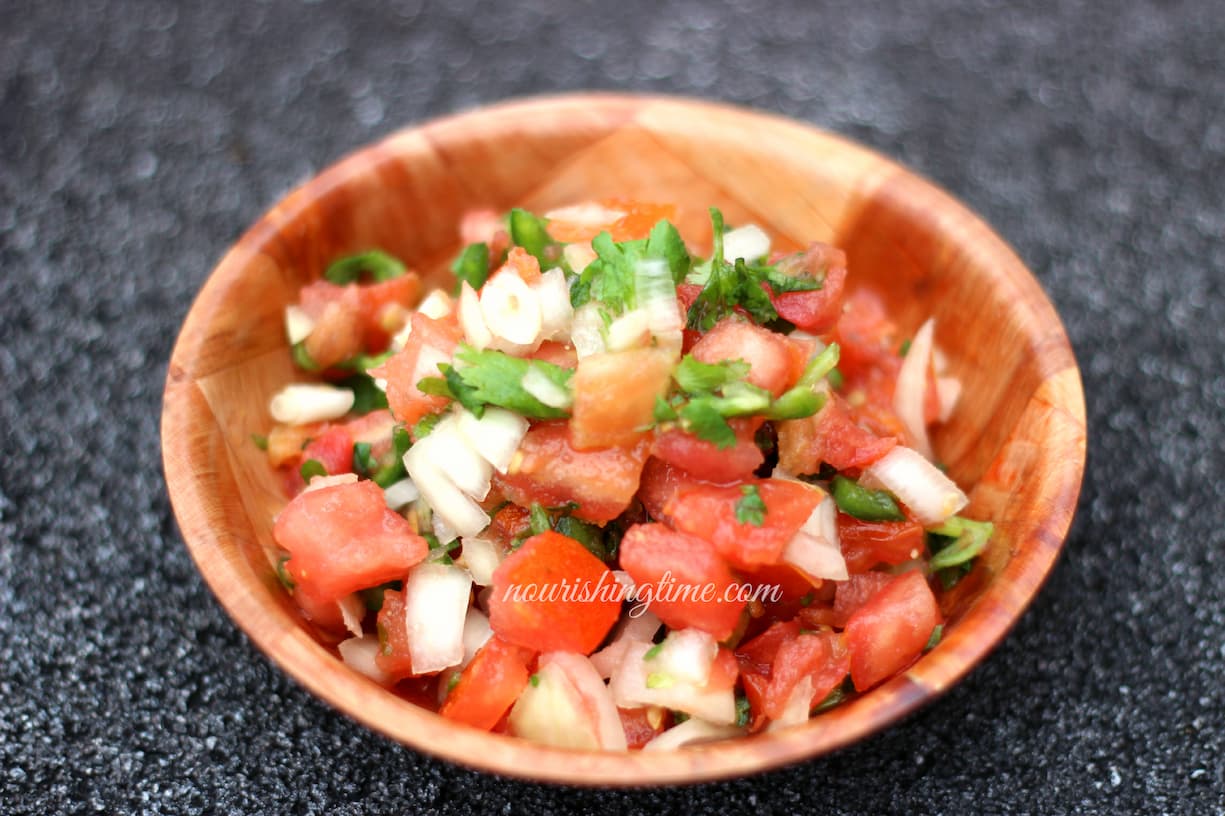 Homemade Chunky Probiotic Tomato Salsa Recipe
Ingredients  
3.5-4

lbs

tomatoes

(8 cups)

2-3

lg

onions

(2 cups)

1/2

bunch

cilantro

4

jalapenos

1

lemon

(juice of)

1/4

tsp

dried oregano

2

tsp

salt

(10g)
Instructions 
Dice 8 cups worth of tomatoes.


Dice 2 cups worth of onions.


Chop 1/2 a bunch of cilantro (Approx 1 cup worth, loosely packed).


De-seed and chop 4 jalapenos (feel free to add in seeds if you want yours more on the spicy side).


Juice 1 lemon and add to mixing bowl along with vegetables.


Add the cilantro and salt to vegetables and mix well with a wooden spoon.


Using a funnel, add all ingredients to a 2L jar.
Use wooden spoon to pack down. Tomatoes should produce enough juice to
meet with choppped ingredients. They do not need to be fully submerged.


Ferment for 18-24 hrs, then store in fridge.

What are some of the things you will enjoy eating fermented tomato salsa with? Leave a comment to let me know, I'd love to hear your ideas!
Nourishing Time is a participant in the Amazon Services LLC Associates Program, an affiliate advertising program designed to provide a means for us to earn fees by linking to Amazon.com and affiliated sites. There is no additional cost to you, and I only recommend products I use and love. Thank you for stopping by! See Privacy Policy for more information.