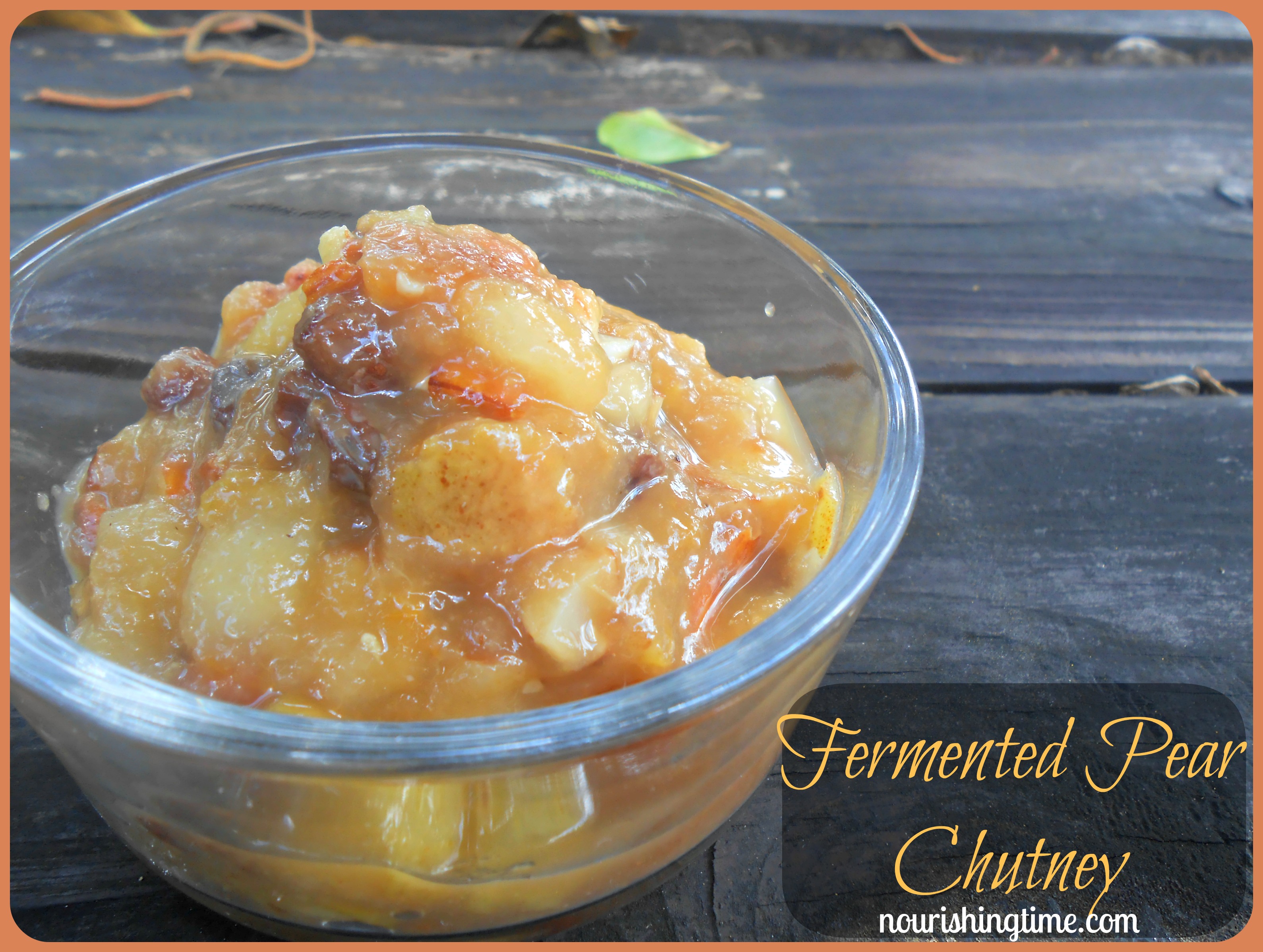 What's a chutney?
Chutneys are prized condiments in India because they are so flavorful and versatile. This fermented pear chutney makes a great dip, and is also a delicious topping for pancakes and dosas.

Chutneys can be savory, spicy, or sweet. This fermented pear chutney falls on the sweeter side, although not overly so. It is naturally sweetened with a small amount of raw honey, and contains sprouted nuts, fresh and dried fruit for additional flavor, texture, and of course antioxidants!
This post may contain affiliate links.
Why should I make chutney and how do I eat it?
I love fermenting fruit as chutneys and salsas because they are so quick and versatile. In India, chutneys are commonly enjoyed with dosas and cooked meats. It is basically used the way we use ketchup, as a flavor enhancer. Many chutneys are savory and include vegetables and a variety of peppers.
While I love spicy food (and being Jamaican I use lots of spice), I also have an appreciation for milder foods. I love to share ferments and it's easier to get people to try them if the flavor isn't overwhelming.
This chutney is great atop coconut flour pancakes, sourdough pancakes, and dosas. It's yummy as a dip for apple slices and makes a quick snack for kids. It does not have the characteristic sour taste of fermented foods, and it is not spicy either.
Although the good bacteria work their magic over the fermenting period, it does not taste much different than regular fruit does. For this reason, fermented pear chutney is a great way to get probiotics into your children!
This will last you about 2 weeks, stored in the fridge. We eat it very quickly. If you are making a large amount, you can freeze for longer storage.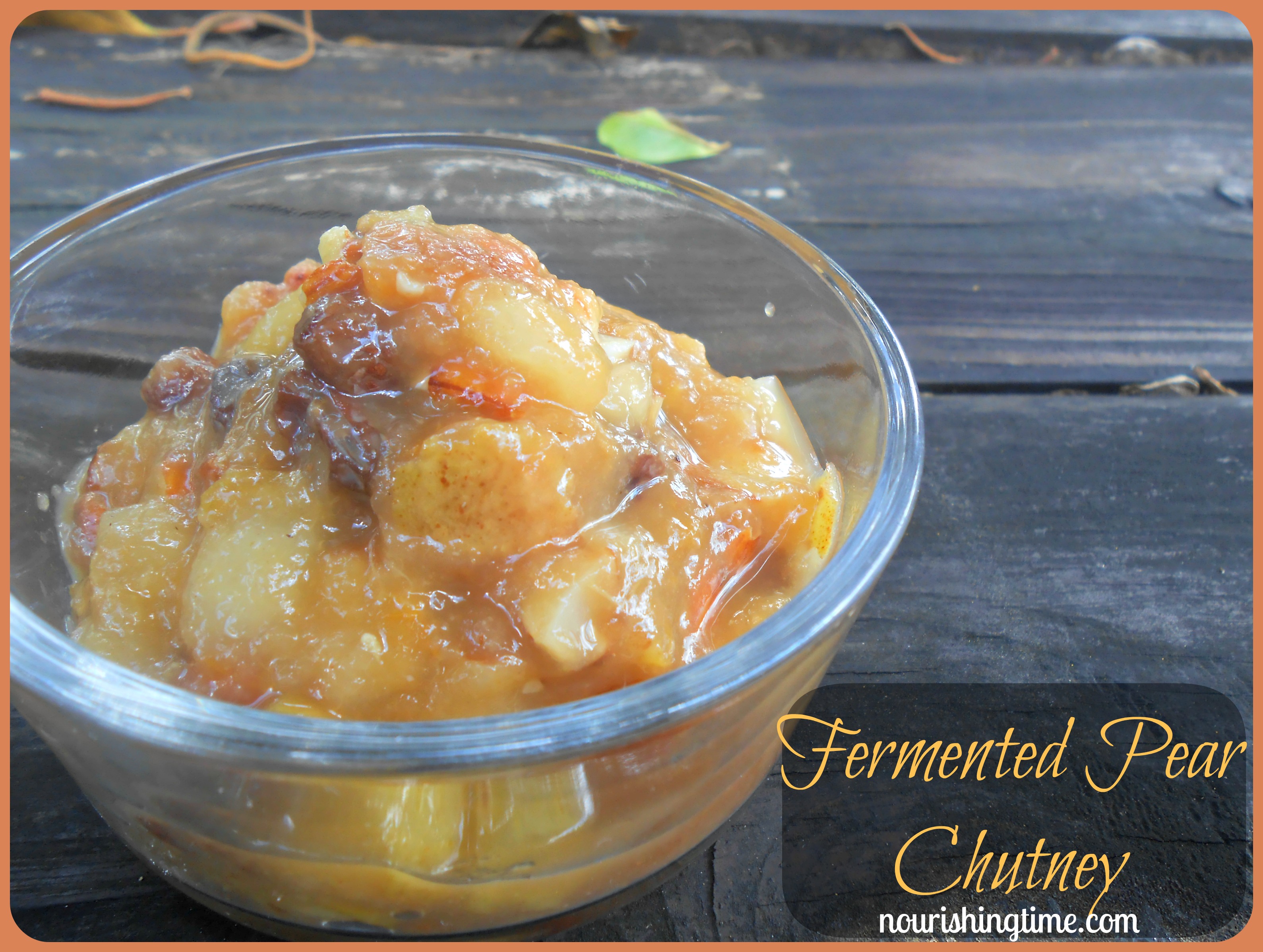 Fermented Pear Chutney
This simple and easy recipe makes a 1/2L of fermented pear chutney, which is a great topping for dosas, pancakes, etc. It also makes a great dip for chips, apple slices, and the like.
Instructions 
Add raisins, almonds (chopped), nutmeg, salt and honey. Add ginger to taste. I prefer to juice the ginger then use the juice instead of putting chopped or powdered ginger.

Mix it all together (it's OK if some pear chunks get mushed to release juice!) and put in your jar. It should have a brine that is somewhat thick, but mostly covering the fruit. You may add a little water and/or freshly squeezed lemon juice if needed.

Close jar tightly and let ferment for 24 hours at room temperature, then move to the fridge.
This chutney is delicious on its own. My son loves to enjoy it as a snack, akin to applesauce. The great taste makes it a great ferment for picky eaters. You may also want to try this fermented peach papaya chutney!
Have you tried this fermented pear chutney yet? If so, I'd love to know what you enjoyed it with!
Nourishing Time is a participant in the Amazon Services LLC Associates Program, an affiliate advertising program designed to provide a means for us to earn fees by linking to Amazon.com and affiliated sites. There is no additional cost to you, and I only recommend products I use and love. Thank you for stopping by! See Privacy Policy for more information.