I was recently searching for a yogurt lovers gift guide to find some amazing products that would make great gifts for anyone who reveres good yogurt, and that was difficult to do. So I decided to create this guide of gifts for yogurt lovers. This will make it easy to shop for products you or the yogurt lover you know will truly appreciate!
This post may contain affiliate links.
1. "Yoda Best Yogurt Lover" Mug
This yogurt lover mug is seriously cute, well made, and has great reviews! Imagine eating your yogurt with Yoda every morning! Are all yogurt lovers Star Wars fans? I know I am!
2. Personalized Golden Spoon
We weren't all born with a golden spoon in our mouths, I most certainly was not! But that doesn't mean that we can't live a life of royalty when we settle down to enjoy our yogurt! This spoon is every yogurt lover's dream come true, it's literally got your name on it! It is packaged well in a beautiful gift box, and arrives quickly.
3. Laurie's Pantry "Tropical Surprise" Granola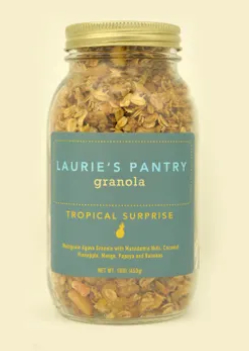 There's nothing better in a delicious bowl of homemade yogurt than Laurie's gourmet granolas! My personal favorite flavor is the Tropical Sunrise, but there are so many different flavors to choose from! The Tropical Sunrise granola is boastful, with crispy oats and macadamia nuts, toasted coconut, and the delicious blend of flavors from papaya, mango, banana and pineapple chunks!
You might also want to throw in a bag of these delicious cacao nibs!
4. Vintage Stoneware Yogurt Pots
These pots are used in France to make delicious, homemade cultured yogurt. La Fermiere is a small, family-owned company known for their quality French cultured yogurt. These stoneware pots are great to make yogurt in, but can also be used as decorations or to plant flowers in!
5. Yogurt Starters
There are many types of yogurt, and trying different varieties of yogurt is on every yogurt lover's list of things to do! Here are some of the yogurts that are an absolute must-try!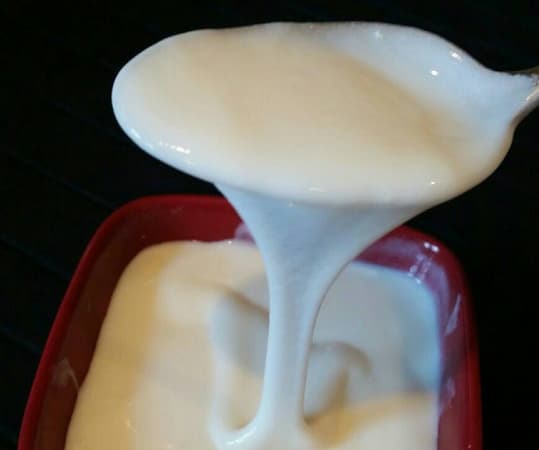 Viili is a mesophilic culture that can be used over and over again. It has a very mild flavor. Mesophilic means that you do not need any kind of yogurt machine to incubate it in! You make it at room temperature. Just put the viili starter and fresh milk in a jar, close and leave to ferment for 24 hours! You can purchase viili starter here. This viili starter is an heirloom ropey texture.
Vegan yogurt can be made from coconut or almond milk, and both taste divine! You can use a milk-based starter, but if you are actually vegan or want to share with friends who do not consume dairy, you can purchase a vegan yogurt starter here.
Cultures For Health offers 4 types of heirloom yogurts conveniently packaged together. Viili, Filmjölk, Matsoni and Pimaä. Their Viili tastes great, but it is not the stringy variety linked to above. You can purchase their multi-pack right on Amazon by clicking here.
6. Inexpensive Yogurt Maker
This EuroCuisine yogurt maker is the first yogurt maker I ever owned. I love that it has those small single-serving jars, but most of all I loved the price tag! It is very inexpensive and durable.
If you decide to go with this yogurt maker, please note that if you are making 24-hour yogurt for the GAPS or SCD diet, this yogurt maker does have unstable temperatures when used for long periods. To fix this, I used this dimmer switch. You plug the yogurt maker into it then plug the dimmer switch into your wall socket. This helps to lower the overall temperature of the machine so it is kept below 115F the entire time your yogurt cultures.
If you want to go with this machine, but want to make more jars at a time, you can buy this extension to do so! And then you can buy these jars to double the amount of yogurt you are able to make at one time. This is what I did so that I would have enough yogurt for a week at a time!
7. Excalibur Dehydrator For Easy Homemade Bulk Yogurt
The Excalibur dehydrator is a dream come true for serious yogurt connoisseurs! This bad boy will allow you to easily and quickly make lots of homemade yogurt in the containers of your choice. I personally love to make in a variety of sizes of mason jars or Fido jars, and this will easily fit mason jars up to quart size, and Fido jars up to 1 1/2 liter size.
8. Greek Yogurt Strainer
If you really love Greek yogurt, then you'll be glad to know that you can use your own homemade yogurt to make it! First you make your yogurt (to learn how to make homemade yogurt, click here). Then you chill it. Once cold, put yogurt in the top compartment of this Greek yogurt strainer. Close and let strain for about 8 hours. The bottom compartment will collect the whey from the yogurt, and you'll have delicious Greek yogurt you can let chill, then enjoy!
9. Mini Cooler For Yogurt
This lunch box cooler is perfect for taking your yogurt on the go! It comes in several colors and is super kid-friendly. You can pack yogurt as a snack for you or your little one and it will actually stay cold! It comes with an ice pack and spoon, and there is a separate compartment for the ice pack–that way if you use the cooler for a sandwich, it won't get soggy! Be sure to check out this awesome mini yogurt cooler!
10. The Best Frozen Yogurt Machine
I have had the frozen yogurt maker on the left for a long time, at least 8 years! It is the older model but still available. You'll find the least expensive in red, but it is also offered in white (the color I have), and pink.
This version, pictured on the right, is newer and comes in brushed chrome which many prefer for their kitchen aesthetic these days. I'm sure it works just as well. The Cuisinart frozen yogurt makers get the best reviews!
After you're done making the frozen yogurt, fill these molds to make delicious frozen yogurt popsicles!
11. Seriously Cute Yogurt Jars
Aren't these little yogurt jars seriously cute? Totally kawaii! These are glass reusable jars that you can eat your yogurt out of day after day. Also great for serving small portions of your homemade yogurt up as a gifts! Check them out here.
12. Yogurt Pens/Charms & Planner
This pen has a seriously cute Froyo charm and is a simple gift for someone who loves yogurt but is also very practical. This Froyo planner charm is a perfect addition—it is handmade and you can choose two custom colors as well as a keychain or lobster clasp! Both would go well with a planner. I personally use and love this planner!
13. "I Make Yogurt Disappear, What's Your Superpower?" Tee
Not everyone is good at eating a daily cup of yogurt. But some of us can easily devour several cups per day! For a serious yogurt lover, this "I make yogurt disappear" tee is a proud declaration of our mad skills!
14. "Yogurt The Look" Tee
This is probably my favorite of the four tees in this yogurt lovers gift guide! Not only is this "Yogurt The Look" T-shirt cute, it also comes in a variety of colors so you can choose your favorite! And my favorite part is that if you order on Crushtee, you can get it as a hoodie, sweatshirt, tank top or long-sleeved tee!
15. "Got Yogurt?" Tee
The "Got Yogurt?" tee is an awesome spin on the classic "got milk?" slogan. It's always a perfect time for yogurt!
16. "After this we're getting yogurt" Tee
The "After this we're getting yogurt" tee is perfect for anyone who considers yogurt comfort food!
You might also be interested in the following gift guides for healthy foodies:
Best Gifts For Yogurt Lovers
From this list, I think the best gifts for yogurt lovers is a yogurt maker, yogurt starter, frozen yogurt maker, personalized yogurt spoon, and Laurie's pantry granola. What tops your list? Have you found other great items for yogurt lovers that I haven't included on this list? If so, I'd love to hear about them!
Nourishing Time is a participant in the Amazon Services LLC Associates Program, an affiliate advertising program designed to provide a means for us to earn fees by linking to Amazon.com and affiliated sites. There is no additional cost to you, and I only recommend products I use and love. Thank you for stopping by! See Privacy Policy for more information.