I'm SO excited to share this ginger bug lemonade soda recipe with you! I still remember early into my fermenting journey, I felt like there weren't many "fun" things I could make because we were dairy-free. This recipe shows you how to make fizzy lemonade without whey! And it's awesome!
This post may contain affiliate links.
A fermented lemon drink is perfect for summertime and it has the added benefit of helping with stomach aches and nausea due to the neutralizing acids in lemons, as well as the natural probiotics and enzymes from the fermentation process.
Carbonated lemonade is perfect for those who want a fizzy drink but don't want to drink store-bought sodas. This is a natural homemade soda that's healthy for you without sacrificing taste–in fact, it's a SUPER delicious, thirst-quenching lemonade!
Can lemonade ferment?
It sure can! All you need is some type of starter to get the process going. A spontaneous lemonade ferment will likely have off-flavors due to bacteria and yeast that cause spoilage, however using a starter culture helps you make fizzy lemonade that tastes great!
Related Post: Is It Safe To Drink Fermented Juice?
Can you make fermented lemonade without whey?
Yes! As promised, this fizzy lemonade recipe does not use any whey or other milk-based starter at all! Instead, it uses a ginger bug, which can be made with ginger, water, sugar and a jar. It is super easy to to make, and here are some easy to follow ginger bug instructions!
Once you've got your ginger bug going and it is active and bubbly, you're ready to follow the directions below to make your ginger bug lemonade!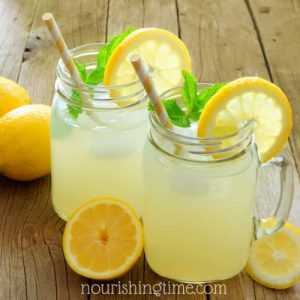 Naturally Fermented Lemonade Recipe
This is a delicious, refreshing ginger bug lemonade recipe made with a natural ginger bug starter. Now you can have fizzy lemonade WITHOUT using whey! It is easy to make and can get SUPER fizzy if you desire. You're really going to LOVE this homemade lemonade soda!
Ingredients  
1

cup

lemon juice

(approx 5-6 large lemons)

7

cups

water

1

cup

sugar

1/4

cup

active ginger bug

1

tsp

molasses

(optional, for bolder flavor)
Instructions 
In a pitcher, mix lemon juice, water, cane sugar and molasses together.

Stir in your active ginger bug starter and stir well.

Taste and adjust lemon flavor by adding more lemon juice or water, until your tastebuds are happy!

Bottle in mason jars or swing-top jars and let ferment 8-24 hours until fizzy to your liking.

Refrigerate, serve cold and enjoy!
Notes
Swing-top jars will produce the most fizz!
This is closer to an old-fashioned lemonade recipe, very lemony and made with fresh-squeezed lemon juice. To squeeze lemon juice quickly, I love to use this lemon juicer. It catches the pulps and seeds and does a very efficient job.
If lemons are difficult to find where you are, or you just can't stand juicing lemons, you can use this lemon juice instead. But this tool seriously makes juicing lemons at home a breeze!
Be sure to pin this recipe, and leave a comment if you have any questions or feedback!
Nourishing Time is a participant in the Amazon Services LLC Associates Program, an affiliate advertising program designed to provide a means for us to earn fees by linking to Amazon.com and affiliated sites. There is no additional cost to you, and I only recommend products I use and love. Thank you for stopping by! See Privacy Policy for more information.