Coconut milk kefir is a delicious, vegan fermented coconut milk beverage. Similar to regular milk kefir, it is filled with a wide variety of strains of good bacteria that are beneficial for gut health. Read on to find out how to make coconut milk kefir and the benefits you'll get from drinking it!
This post may contain affiliate links.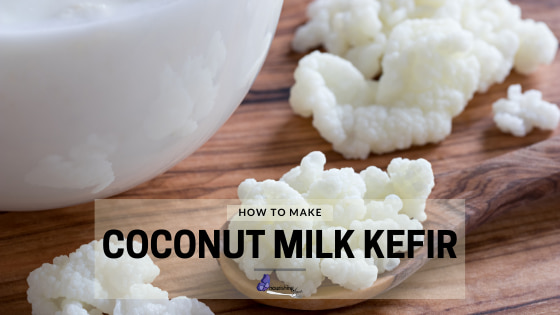 The good thing about coconut milk kefir is that it is vegan and dairy-free. For those who choose not to consume milk, as well as those who cannot because of an allergy, intolerance, or temporary restriction, having a dairy-free fermented beverage to enjoy really helps with delivering probiotics regularly.
Here are several benefits of coconut milk kefir:
boost immunity
provides probiotics
reduces natural sugars in coconut milk
high in healthy fat/medium-chain triglycerides (MCT)
Great source of B vitamins, iron and selenium
increased energy
aids digestion of other foods
promotes a healthy gut
tastes delicious
vegan/dairy-free source of probiotics and nutrients
In addition to these benefits, did I mention it is coconutty and delicious?
To make coconut milk kefir, you'll need good quality coconut milk. You can choose a canned coconut milk or you can make your own coconut milk.
Related Posts:
You will also need milk kefir grains. These you'll want to get in advance. You'll want to get live kefir grains that are ready to use and active. If you also consume dairy, it is best to make a batch or two of regular milk kefir firs tot ensure your grains are alive and working properly.
Next you'll want to use filtered water free of chlorine to gently rinse the milk kefir grains. Use the purest water you can, as you do not want to kill the milk grains. Once you have gently rinsed your milk kefir grains to remove dairy residue, rinse with coconut milk a couple times.
Next up, you'll want to prepare your coconut milk. If you are using freshly made homemade coconut milk, you can proceed to the recipe card.
If you are using canned coconut milk, I recommend heating the coconut milk to at least 140 degrees Fahrenheit, then letting it cool to room temperature (around 80 degrees or lower). Canned coconut milk has a tendency to mold quickly.
Homemade Coconut Milk Kefir
This is a recipe for how to make coconut milk kefir at home. This is a healthy, probiotic-rich fermented coconut milk beverage.
Ingredients  
16

oz

coconut milk

(or 1 15oz can)

4

large

dates

(cut in half)

1-2

tbsp

milk kefir grains
Instructions 
In a clean glass fermenting jar, put your kefir grains.

Add the dates to the jar.

Add the coconut milk to the jar.

Close jar and let ferment for 12-24 hours.

If your house is warm, check at the 12 hour mark. Your coconut milk kefir should have a tart taste, and the milk separating is normal. You can ferment up to 48 hours if necessary.

Once your coconut milk kefir tastes perfect, strain and move to a clean glass jar and store in the fridge. Your coconut milk kefir should keep for approximately 2 weeks.
Notes
In between batches, keep your milk kefir grains in coconut milk with dates or store in dairy milk. The grains do best in dairy milk but it is not 100% necessary. Discoloration of the grains when stored in coconut milk is also normal.
Have you tried coconut milk kefir before? Let me know what you think about it!
Nourishing Time is a participant in the Amazon Services LLC Associates Program, an affiliate advertising program designed to provide a means for us to earn fees by linking to Amazon.com and affiliated sites. There is no additional cost to you, and I only recommend products I use and love. Thank you for stopping by! See Privacy Policy for more information.