One way to keep hydrated and support your immune system naturally is with immune boosting juices. This carrot ginger turmeric lemon drink is one of my favorite immune boosting juice recipes. It is nutritious, naturally sweetened by the carrots, and has a invigorating spice from the ginger, turmeric and lemon juice that isn't too overpowering.
This post may contain affiliate links.
This immune boosting juice recipe is also readily accepted by children. The sweet flavor of juicing carrots is a delicious treat to their taste buds while providing ample amounts of valuable vitamins and nutrients.
One thing I love about fresh juices is that they provide liquid nutrition, which is very easy to absorb by our bodies. Fresh pressed juices are best to have on an empty stomach. Add a spoonful of coconut oil to help your body absorb the nutrients without spiking your blood sugar.
Choose organic, locally grown root vegetables whenever possible. This ensures that your produce is low in contaminants and high in nutrients. For other ways to boost your immune system naturally, check out this post.
Here's a little more information on health benefits of this delicious immune boosting juice!
Carrot
Most people already know that carrots are high in beta-carotene, the precursor to vitamin A that gives it the beautiful orange color. Beta-carotene is an antioxidant that helps protect our cells from damage.
Carrots also play a role in protecting our mucus membranes, lungs, and eyes. Carrot juice in particular is beneficial for increasing cardiovascular health. Drinking a glass regularly helps to decrease systolic pressure (source).
Ginger
I really love ginger, and it's something that I include in a variety of ways. Ginger tea, nettle infusions brewed with ginger, smoothies such as this one, a variety of immune boosting juice recipes, and of course ginger ale/ginger beer.
Ginger is also a great addition to soups, and you can find lots of wonderful soup recipes in the Nourishing Winter Soups ebook.
Unless you have a medical reason to avoid ginger, you should definitely include it in your diet. Even if if you don't love it, you can include it in small amounts.
Ginger is an awesome and necessary addition to your diet because:
It soothes upset stomachs, nausea, vomiting and can help stop abdominal cramps
It has bronchodilating effects and therefore is beneficial to those with asthma and other respiratory issues (source)
It helps to prevent lung damage due to inflammation (source)
It helps to relax airways and loosen mucus
Turmeric
Turmeric is gaining lots of favor lately! It has long been used
The curcumin in turmeric is helpful for prevention and treatment of respiratory disorders such as COPD, asthma, acute respiratory distress syndrome (ARDS) and other pulmonary disorders (source). You can read more about ARDS vs. SARS here.
One problem with the curcumin in turmeric is that it is not very bioavailable. One way to make it more bioavailable is by juicing! Adding black pepper, serving with ginger, and adding coconut oil also help to increase the bioavialability of the curcumin in turmeric. Yay!
Lemon
Lemons and limes are high in vitamin C and multiple bioflavanoids that help fight bacteria, viruses, inflammation, cancer and more. The addition of lemon juice also often helps to pull flavors together and make them stand out.
Lemons helps provide a fresh, clean flavor and the acidity aids digestion so you are less likely to have an upset tummy.
The addition of lemons to this drink improve iron absorption (which carrots provide a good amount of!), lower blood pressure, soothe sore throats, support urinary health and more. The acidity helps to cut mucus and lemon juice is beneficial for asthma and respiratory issues as well!
I hope you really love this recipe and make it a usual. Fresh, nutritious juices can help you flush toxins and mucus from your body!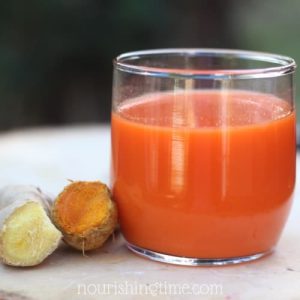 Immune Boosting Carrot Ginger Turmeric Lemon Juice Recipe
This immune boosting juice recipe features fresh juices of carrot, ginger, turmeric and lemon. It is packed with beneficial vitamins and minerals such as vitamin C, iron, manganese, zinc and more.
Ingredients  
10

large carrots

(organic)

2

inch

ginger

2

inch

turmeric

1

large lemon

(juice of)

1

tbsp

coconut oil

(optional)

1/2

tsp

black pepper

(optional)
Instructions 
Wash and prepare your ingredients. I prefer to remove the greens from carrots, but there is no need to peel the carrots, ginger or turmeric.

Juice ginger and turmeric first, then the carrots.

Cut lemon in half and squeeze out as much juice as you can. Mix with carrot, ginger, turmeric mix.

Stir and mix in black pepper and coconut oil, if desired. These help to increase the bioavailability of the curcumin in turmeric, which is a powerful antioxidant and anti-inflammatory agent.
I hope you enjoy this recipe! If you do, I would love to hear about it! Leave a comment and let me know your thoughts!
Please pin this recipe so you can easily find it later! Pinning also makes it easier for others to find this delicious carrot ginger turmeric lemon juice on Pinterest!
Nourishing Time is a participant in the Amazon Services LLC Associates Program, an affiliate advertising program designed to provide a means for us to earn fees by linking to Amazon.com and affiliated sites. There is no additional cost to you, and I only recommend products I use and love. Thank you for stopping by! See Privacy Policy for more information.