Yesterday I shared a recipe for banana chips and explained that green bananas are a nutritious staple in Jamaica. Today I want to share with you another easy way to enjoy this staple–mashed green bananas.
This post may contain affiliate links.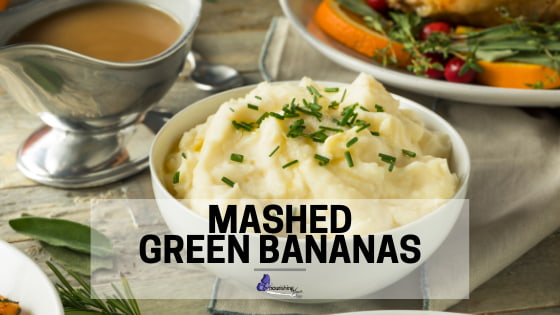 These are similar in profile to mashed potatoes but are more flavorful. They can also be dressed up in many ways by adding different spices and seasonings. Their pleasant taste makes it a good variation to try with picky eaters who gravitate towards mashed potatoes. They actually make a great potato substitute!
Green bananas are also Paleo, but they are not GAPS-legal.
They are very simple to make as well.
Mashed Green Banana Recipe
Ingredients  
2

fingers

green banana

1

tbsp

butter or ghee

1/4

tsp

salt
Instructions 
Set a pot of water to boil

Cut both ends off of the bananas


Make a cut lengthwise from top to bottom (you are trying to make an opening between the skin and the banana, not actually slice it)


Put in the pot of boiling water. It's a good idea to tip a bit of acid in the pot, like a wedge of lemon or a tablespoon or so of apple cider vinegar, to prevent staining your pot.


Once the bananas are tender and the skin will come off easily (approximately 15 minutes), remove from pot.


Peel off the remaining skin.



Mash with butter and sea salt or other desired seasonings.

Don't forget to pin this to your side dishes board on Pinterest!
Try these soon, and let me know what you (or your kids) think!
Nourishing Time is a participant in the Amazon Services LLC Associates Program, an affiliate advertising program designed to provide a means for us to earn fees by linking to Amazon.com and affiliated sites. There is no additional cost to you, and I only recommend products I use and love. Thank you for stopping by! See Privacy Policy for more information.