How would you like to have 52 delicious healthy dessert recipes to choose from? As a family trying to avoid processed sugars in our diets, I know I get tired of not having delicious, decadent dessert options.
Presenting…
Featured are over:
39 Gluten-free recipes (majority Grain-free!)
30 Dairy-free recipes
35+ Paleo friendly
20+ GAPS Diet friendly (13 are easily modified to comply with the diet!)
This week only, save 20% with code NOURISH. That makes your purchase a no-brainer at $7.98!
These treats are amazing any time of the day! Some are even perfect for breakfast!
This book features 41 delicious desserts made of 100% real food ingredients. All recipes are print-ready and include beautiful full-color photos! Additionally, the carefully selected recipes are favorite tried and true recipes from bloggers dedicated to feeding their families real food.
Take a peek at some of the mouth-watering desserts featured in this e-book.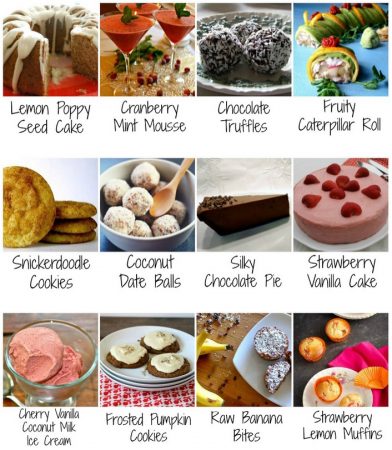 With simple ingredient lists and instructions, you'll be able to make these delicious recipes for your family starting today!
The best part is that you'll be able to download your book right away!
If you've struggled with finding great-tasting dessert recipes that your whole family can enjoy, look no further! Now you'll have over 40 amazing recipes that are simple to create and will have your family begging you for more!
You don't have to search all over the internet trying different recipes to find ones that actually work and taste delicious. This community cookbook is a "best of the best" collection. All real food desserts/snacks that we feed our families on a regular basis. Tried and true recipes that will delight your taste buds!
These recipes are free of refined sugars, unhealthy fats/oils, refined flours. Most are gluten-free!
Best of all, this is more than just a cookbook. This is a collection of recipes from 40+ real food bloggers who only use real food ingredients. Each dessert has a bio section with a link to the blogger's website, where you will be able to find plenty of great recipes and health information!
Which one of these amazing recipes will you try first?
NOTE: I completely understand buying a recipe book just to discover that it doesn't fit your family's needs. As the mama of a son with "weird" allergies, I know that even the most allergy-friendly book might not work for you. So, if you are not 100% pleased with your purchase, just let me know and I will give you a full refund!