We have a tradition in our house where we celebrate birthdays with cake instead of gifts. Since cleaning up our diets, we have had a variety of treats grace our birthday celebrations, including cookies, pies and grain-free cakes. Cue the idea for this delicious sourdough carrot cake!
This post may contain affiliate links.
One of my mom's favorite cakes is carrot cake, so when her birthday rolled around, I decided to experiment with making a sourdough carrot cake. I do not include sugar in my diet besides what I use in water kefir or ginger beer, so it was important to make it with honey so that I could enjoy a piece (or two, or three…).
This sourdough carrot cake turned out delightfully amazing. I will definitely be converting more of our favorite cakes to sourdough in the future!
Sourdough Spelt Honey Carrot Cake Recipe
This sourdough spelt honey carrot cake has nourishing ingredients and makes a delicious and beautiful sourdough birthday cake!
Equipment
3 round cake pans

mixing bowl
Ingredients  
Ferment Overnight
1

cup

fed sourdough starter

(my starter is kept with all-purpose flour)

2

cups

spelt flour

3/4

cup

milk
Combine before baking
3/4

cup

honey

3/4

cup

coconut oil

3

eggs

2

tsp

vanilla extract

1/2

tsp

almond extract

1/4

tsp

nutmeg

1/4

tsp

ginger

1

tsp

salt

2

tsp

baking soda

1

cup

shredded carrots
Instructions 
Mix milk and starter together in a big glass mixing bowl. Add 2 cups spelt, mix well, cover the bowl with plastic so it doesn't form a crust and leave to sour overnight (approx 12hrs).

In the morning, take out the eggs so they can come to room temperature. Shred your carrots, finer shreds will work best. Warm the coconut oil if necessary, as it should be liquid. You may also measure out the the extracts, salt/spices and carrots at this time.

Cream the honey and coconut oil together in another big mixing bowl. Add the eggs and mix together well. Add in your extracts, salt, spices, and shredded carrots, then mix well.

Preheat your oven to 350o and grease your cake pans. I used butter. You may line them if you wish.

Once your oven is almost done preheating, mix all ingredients together (the fermented batter and the honey, coconut oil, eggs, shredded carrot and spices). You will add the baking soda last, in the next step.

Add the two teaspoons of baking soda, mix well, let foam for a second. Then distribute cake batter evenly among the 3 cake pans.

Place in the middle rack of the oven and bake for approximately 25 minutes. The timing was perfect for my cakes, but I would recommend checking at 20 minutes just in case your oven is speedier than my own.

Let cool. I made up the glaze during the cooling phase.

Place one layer at a time on your serving spread and spread the glaze as evenly as you can on top before adding another layer. If your glaze won't spread easily enough, you may need to warm it or dilute it a little (with coconut oil or water). Spread the thickest layer on top of the cake, mmmm!

Serve and enjoy!
Don't forget to leave a comment letting me know what you think. I love hearing from you guys! And pin this recipe for later so you can find it easily!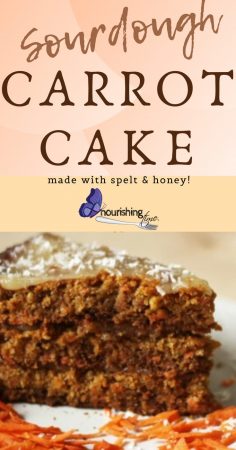 Nourishing Time is a participant in the Amazon Services LLC Associates Program, an affiliate advertising program designed to provide a means for us to earn fees by linking to Amazon.com and affiliated sites. There is no additional cost to you, and I only recommend products I use and love. Thank you for stopping by! See Privacy Policy for more information.