Many times when I am looking for something new to try fermenting, I try to find out why other cultures may have chosen to ferment particular foods. A few weeks ago, I decided to try fermented daikon radish. These radishes are served often by the Japanese, and with good reason.
This post may contain affiliate links.
Daikon radishes are an amazing source of digestive enzymes that help to break down fats, carbs and protein. Of course, these digestive benefits are increased in this fermented daikon radish recipe! These enzymes also help dissolve mucus in the respiratory system.
These radishes have plenty of phytonutrients that help to strengthen the immune system and fight cancer. It is a good source of phosphorous, which is essential for tooth and bone health. It also has the important amino acid cysteine, which means it aids greatly with detoxification:
[Daikon]…is a very effective diuretic. It causes the kidneys to process waste more effectively and thus excrete more urine. This helps to both improve kidney function and to treat edema. It also helps to clean the blood, eliminating the toxins through the kidneys, liver, sweat glands and digestive tract. Because of this, it helps food be digested more completely leading to less over eating and often weight loss. – herbwisdom.com
Enzymes are destroyed by cooking pretty quickly, so fruits and vegetables are especially beneficial in their raw state. However, they can contain anti-nutrients that makes it difficult for us to get the nutrition they offer, and they can otherwise be very difficult to digest. Fermenting these foods helps to pre-digest them while preserving and enhancing their nutrients so that we can get the most out of them!
I asked around for a good recipe but ended up winging it a little, what resulted was really good!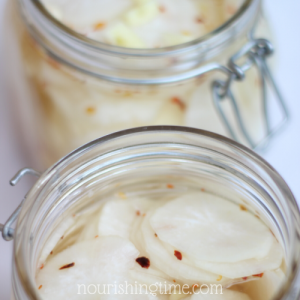 Spicy Fermented Daikon Recipe
This recipe makes 1 quart
Ingredients  
Ingredients
1 1/2

lbs

daikon radish

1/2

medium onion

(any kind works, I like vidalia)

2-3

cloves

garlic

1

inch

ginger

(grated)

1

tbsp

crushed red pepper flakes
Brine
1

tbsp

raw, sweet variety honey

15

g

salt

(approx 1 tbsp)

2

cups

filtered water

(approximately)
Instructions 
Peel and cut daikon into thin chips (or sticks). I use a mandoline slicer for even thickness.

Fill jar with daikon chips/sticks

Mix up your brine (the salt, honey and water) and pour over the daikon. You want them submerged.

Close jar and ferment 5-7 days. Move the fridge where you can enjoy right away or age longer!
Notes
Ginger: You can sub 1 tbsp ginger powder if necessary, but fresh ginger works best! Brine: Generally you need 5g of salt per cup of water for this recipe. Your jar should be filled to the shoulder, only leaving 1-1.5 inches of space above.
My family really enjoyed these and I am actually going to make up another batch sometime this week. If I'm to be completely honest, they ran out quite quickly. The only thing that has ever disappeared quicker than these was tomato salsa!
If you decide to try this recipe, let me know if you enjoyed it by leaving a comment. And don't forget to pin this recipe!
Nourishing Time is a participant in the Amazon Services LLC Associates Program, an affiliate advertising program designed to provide a means for us to earn fees by linking to Amazon.com and affiliated sites. There is no additional cost to you, and I only recommend products I use and love. Thank you for stopping by! See Privacy Policy for more information.