This is a tutorial that will teach you how to make coconut milk from fresh coconuts. Homemade coconut milk is the best because it is raw, fresh, and completely natural. You get to choose your coconuts, and you get to choose your water. You get to control how thick you make your milk, and what sweeteners (if any) you want in your coconut milk!
This post may contain affiliate links.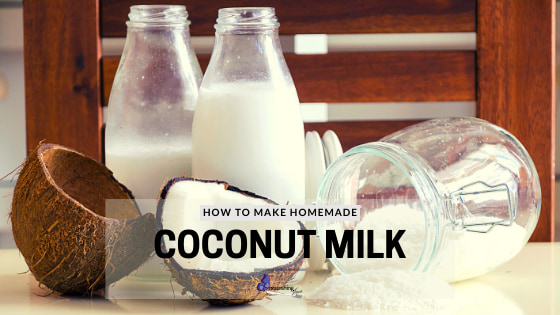 I have nothing against buying coconut milk, and previously shared which brand I think makes the best canned coconut milk. I make my own coconut milk whenever possible, but it's not always easy to get good brown coconuts, and I personally don't love the coconut milk resulting from shredded coconuts. It is not as creamy and flavorful as fresh homemade or canned coconut milk.
First, let us clear up a few things that sometimes confuse people who are not very familiar with coconuts.
What is coconut water vs. coconut milk?
Coconut milk is made using the flesh of older coconuts, which is also called mature coconut meat. The resulting beverage is rich, creamy, and milk-like, with a strong coconut taste. It does not contain any dairy. It is made by extracting the flavor from the flesh of the coconut using regular water.
Coconut water, on the other hand, is naturally found in coconuts. It is close in mouth feel to regular water, naturally sweet, and has a light coconut taste. You can find out more about coconut water and making coconut water kefir in this related post.
Can I make coconut milk with coconut oil?
Unfortunately, you can't! Coconut oil is extracted from coconuts but does not have any of the meat necessary to make coconut milk. Coconut oil rises to the top of coconut milk. You can make coconut milk from coconut cream, coconut flakes, shredded coconut, or fresh coconuts.
Can I make coconut milk without a blender?
Yes, and I'm also going to tell you how to make coconut milk without a blender!
In the old days, we used to make coconut milk by hand every Sunday. Coconut milk is an important ingredient in rice and peas in Jamaica, and we had that along with fried chicken every single Sunday. Sunday mornings we would get some brown coconuts, crack them, and then make coconut milk. This was a pretty easy task for even older children to do. I remember making coconut milk by hand starting at around 8 years old. It's basically a 3 step process:
Crack mature coconuts
Scoop out the coconut meat from the shell
Grate the coconut meat with the finest side of the grater
Add water
Mash together until water turns milky.
Strain and repeat the process once.
I really loved helping to make the coconut milk because afterwards my grandma would give me a little brown sugar to mix with the "coconut trash." I mixed it up and found it so delicious! I would share it with my two younger sisters who really loved it as well.
Easy Homemade Coconut Milk
The following is a printable recipe for how to make homemade coconut milk easily. Using a blender, you just throw all the ingredients together and then strain the milk. Store in glass jars you can close tightly. You can also freeze the milk for future use.
How To Make Coconut Milk From Fresh Coconuts
This is a recipe for how to make homemade coconut milk using fresh coconuts. This recipe will make 2 quarts of coconut milk.
Equipment
Blender

Strainer or Nut Milk Bag
Ingredients  
20

oz

fresh coconut meat

8

cups

filtered water

10

dates

(optional, for flavor/sweetness)
Instructions 
Blend coconut, water and optional dates together in batches depending on the size of your blender. I have a Blendtec, and blend 10oz mature coconut with 2 cups of water for approximately 2 minutes.

Strain and return the strained coconut meat to the blender with another 2 cups of water and 1/2 of the dates.

Strain and discard the strained coconut/date mixture.

Repeat steps with the rest of the coconut meat, water and dates if you are using them.

Mix all the strained coconut milk together well, and portion in two quart mason jars or other storage container.
I hope these instructions will help you easily make your own coconut milk at home, using fresh coconuts! This allows you so much control over what your family consumes. It also allows you to make your coconut milk as thick or thin as you want. Use more coconut and less water for thicker, richer coconut milk. Use more water and less coconut for a thinner consistency.
FAQ
Is it cheaper to make your own coconut milk?
Unless you are unable to find a coconut for a good price, it is certainly cheaper and healthier to make your own coconut milk. It's also great to be able to change the flavor and thickness to how you prefer it.
Nourishing Time is a participant in the Amazon Services LLC Associates Program, an affiliate advertising program designed to provide a means for us to earn fees by linking to Amazon.com and affiliated sites. There is no additional cost to you, and I only recommend products I use and love. Thank you for stopping by! See Privacy Policy for more information.